Stay at

Pacific Center is home to an extended-stay hotel thoughtfully crafted to offer you a warm, inviting atmosphere, regardless of your purpose for being here. At Residence Inn by Marriott, we aim to provide you with a familiar and comforting setting that promises tranquility during your stay.
Furthermore, we take pride in our hotel's accessibility, designed to accommodate guests with reduced mobility, enabling them to fully enjoy our outstanding amenities. We remain steadfast in our commitment to ensuring a distinctive and gratifying experience for all our guests, as evidenced by our proactive measures to ensure accessibility throughout our facilities. At Pacific Center, your comfort and well-being are our foremost priorities.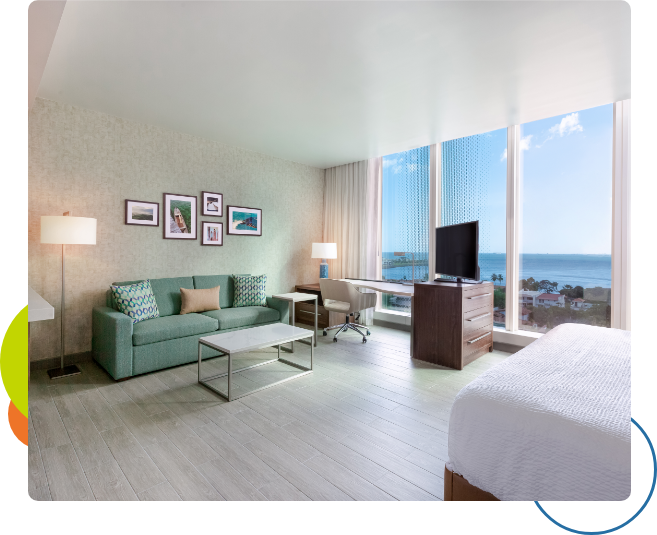 Comfort and Functionality
The Residence Inn hotel takes great pride in crafting suites that seamlessly blend comfort and functionality, complete with high-speed Wi-Fi access. Our spacious accommodations are tailor-made for extended stays, featuring a well-defined living area, a separate sleeping space, and a fully equipped kitchen. Our foremost aim is to make you feel entirely at home throughout your stay, which is why our suites are meticulously designed to offer unparalleled comfort and convenience. Be it for business or leisure, our generously appointed rooms are guaranteed to provide a delightful and tranquil experience, ensuring your visit is a memorable one.
The perfect family experience
Experience exclusive family offers at The Residence Inn, located at Pacific Center. Our hotel presents an opportunity for day passes, perfect for those looking to beat the summer heat while taking in the breathtaking cityscape from our stunning pool. Additionally, we've curated an exclusive menu to enhance your visit. At The Residence Inn, our top priority is ensuring that you and your family make the most of your stay with us. Come and explore the fantastic amenities and services we have in store for you; we eagerly await your arrival with open arms!
Discover paradise
Located on the uppermost floor of our hotel, you'll discover a remarkable recreational oasis boasting an outdoor infinity pool, inviting you to savor moments of refreshing relaxation. Adjacent to this aquatic haven, our fully equipped fitness center awaits, featuring an extensive array of machines and free weights, all followed by a cozy lounge area where you can unwind post-workout. Furthermore, on this same floor, you'll find three versatile function rooms available for booking, ideal for hosting a wide range of events or meetings. These spaces exude versatility and warmth, perfectly suited to meet your diverse needs.
Culinary delights and relaxation
Start each morning with a burst of vitality by indulging in our complimentary breakfast buffet, thoughtfully curated to provide an array of wholesome and nourishing options to kickstart your day on the right note. Moreover, as the day transitions into the afternoon, our restaurant opens space for delightful barbecues and picnics, offering the perfect setting for cherished family moments. After a day brimming with activities, unwind and savor a beverage at our bar, which offers a panoramic cityscape view, creating an idyllic ambiance for relaxation and disconnection. For those who prefer a tranquil evening within the comfort of their room, our hotel offers a convenient delivery service right to your door.
Celebrate your event in style
Residence Inn by Marriott presents two versatile meeting rooms available for rent, adaptable to accommodate various event types, with a maximum capacity of 160 attendees. These rooms are thoughtfully outfitted with cutting-edge audiovisual technology and boast high-speed Wi-Fi connectivity to ensure the seamless success of your event. Moreover, our dedicated team stands ready to provide you with personalized banquet services, and our expert meeting planners are on hand to meticulously orchestrate every aspect of your gathering. At Residence Inn, we take pride in offering flexible spaces and top-tier services to cater to your event planning needs. Reach out to us and allow us to transform your event into an unforgettable experience!